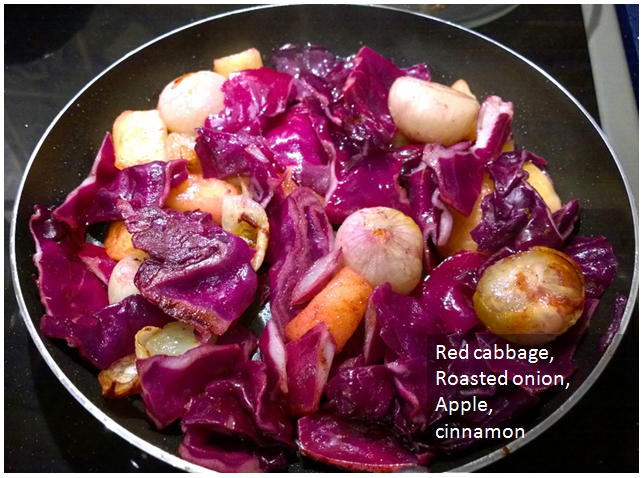 This is like a pile of leaves you just can't stop yourself from wanting to jump into.
It's like a gathering of chunky knits you can't wait to bury yourself amongst.
It's like a gang of conkers and pinecones you can't help but want to take home and treasure.
It's like those little bits of Autumn that together made the season complete.
To make...

Chop up the onion into chunks and roast in the oven for about 50 minutes,
Peel and chop up your apple into medium size chunks and wash and prepare your cabbage.

On a medium heat on the hob, heat up a tablespoon or so of olive oil and then add the apple.
Keep stirring and flipping over and then, once it's cooked appearance is becoming evident, add the cabbage.
Leave for about 10 minutes, whilst stirring and mixing regularly, then take the onion out from the oven and combine in the pan. Sprinkle cinnamon into it too for that all important seasoning. Keep mixing so it all turns a sumptuous purple then, when you feel it's definitely all ready, dish up with your main course!

Goes best with the ultimate comfort foods like sausages and mash or savoury pumpkin pie.

yum, yum, yum.