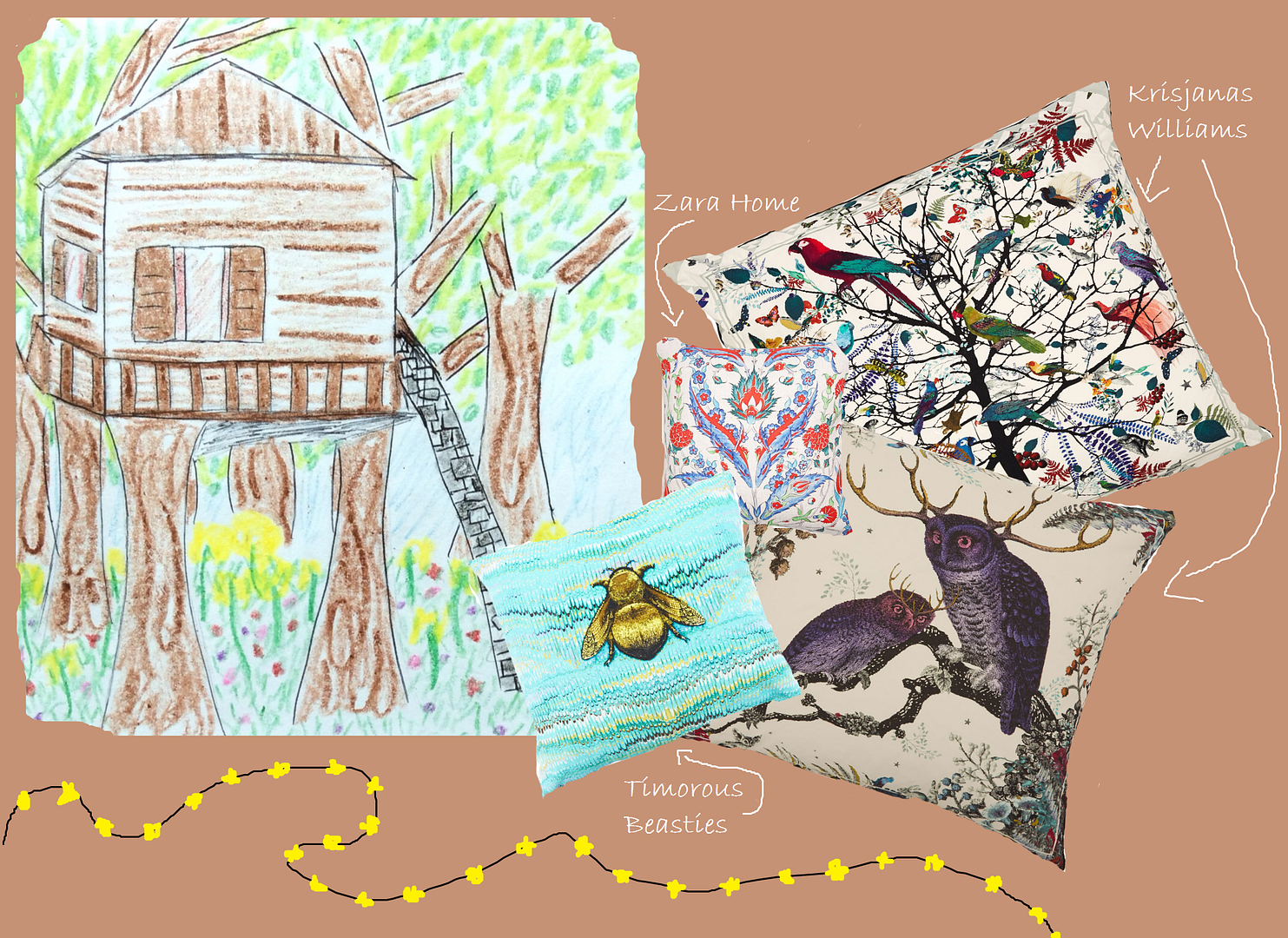 She's spending her weekend in a secluded
treehouse
surrounded by tranquillity and nature. The bustle of everyday life is hidden behind curtains of greenery and her only company is that of her loved ones and harmless wildlife. Flowers are her oxygen- She inhales their presence to sustain her well-being, their pretty colours and pleasant aromas like medicine for a stress-developing mind. They sprout up from amongst the grass and weeds as though reaching up with elegant arms ready to be embraced and they decorate the interior with warming grace.
Inside the treehouse are sofas covered in comfy cushions- The kind illustrated with dreamy prints to match their environment. There is a bookcase at the side lined with books for her to transport herself in to while nibbling on homemade brownie and, by the window, sits the dining table- Or rather a
picnic bench
that has been nestled into the indoor(ish) world, topped with candles and bowls of salad.
The house is cosy and cabin-like, entered via a brick staircase that invitingly ventures upwards. On arrival, it's as though she's entering a magical land up in the clouds, especially come night time when the
fairy lights
that are hung all around the inside of the treehouse are switched on, illuminating her getaway with enchanting yellow.
I love the idea of having my own treehouse that I can just escape to whenever I feel necessary. Not a wonky, handmade one in the back garden like wished as a child but a proper house-like one with beds. I think I have Taylor Tomassi Hill and her Instagram to thank for this...That and Pinterest...In the meantime, the above cushions are perhaps the closest to recreating this scene and bringing a touch of adventure and the outdoors into our living space.
*OOPSIES: It's Kristjana Williams not Krisjana Williams